Camping in Ireland
Camping can be a good starting point to introduce people to the great experiences of family spending quality time with each other. Playing a part in chores, games and general fun times. In the outdoors camping in a tent can really connect a family. A well-prepared trip can be a great time for you. If you have children they will enjoy the experience and remember it forever, you may even get hooked on IT.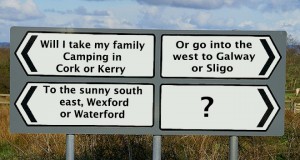 Do camping parks have many rules?
Yes, all sites have rules in the interests of all people who enjoy camping and the outdoor life. Check prior to booking that the camping park will accept groups of people is recommended. Some parks will not allow groups and will refuse.
What's to do at night on a camping park?
Life on the transient parks can be very colorful. Mixing with people from Ireland, UK, France, Germany and many other countries. I enjoy overlooking a campsite, the colorful tents which appear like Chinese lanterns on the ground as they illuminate at night.
Entertainment can differ from one park to another. Mixing with other tourists can be great fun and educational. Most transient tourists love the experience of moving around. Seeing different locations on each trip and invest a lot of time and money on tents, touring caravans and camper vans over the years. Now camper hire has become more available in Ireland it has opened up to new markets. Irish and foreign tourist can spend time touring around Ireland without the requirement of buying and maintaining caravans/campers.
You will meet new friends and interesting people on these trips. People will tell great stories about their travels and experiences.   You will discover places that you never knew existed. Experiencing the good, bad and ugly and live to tell the tales for many years to come.
Your children make new friends as will you. We recommend that if you are thinking about this kind of holiday that you just go for IT!
For More information follow this link.