Camping-Ireland AGM 2015.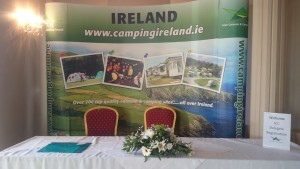 The weekend of the 6th & 7th November marked the AGM of  the Irish Caravan & Camping Council (Camping-Ireland). Air WiFi were offered to exhibit at the conference and were delighted with the request. Camping-Ireland has over 100 members and represent mainly touring caravan and camping parks with members catering for static mobile homes too. This years AGM had around sixty members in attendance at the Gold Coast Hotel in Dungarvan, Co Waterford. There were ten exhibitors in total, Air WiFi, Argos Fire & Safety, Blue Wall Technologies, Sales Sense, Campsited, Camp Manager, Caravan Park Electrical, Carnby Caravans, Miele Professional and Willerby.
The Gold Coast Hotel.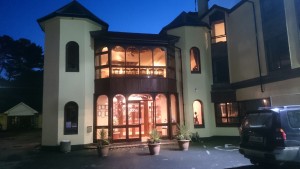 The Gold Coast Hotel who are members of Camping-Ireland have an expansive resort comprising of Hotel, holiday houses, apartments, mobile home park, gym, leisure centre & sports training centre, golf course and lots more. The hotel had many function rooms, bars and lots of amenities available to Camping-Ireland members. The resort spans over acres of land perfect for any large event or family gathering and is close to Dungarvan town.
Air WiFi & Camping-Ireland.
We were attending the AGM to display our product and to get an insight into the park owner's views on WiFi. We also wanted help inform park owners of their responsibilities when providing WiFi. The Camping-Ireland members would visit the exhibition room between meetings, while digesting a meeting's discussions. As Friday business closed, the park owners could relax and we could then chat. I spoke to a number of Camping-Ireland members. It appeared they were experiencing some problems with WiFi and providers. . They want to provide a quality experience for their visitor. They want their parks to be up to date and moving with the times. They need to provide the service yet are they taking on too much? The members I spoke to are investing a lot of time improving services, resolving problems that may be distracting them from their core business.
The Camping-Ireland members are focused on looking after their business. Foremost their focus is toward their visitors wants and needs. Some of us may understand that park owners work 365 days a year on their business. Without the members of Camping-Ireland, visitors would have nowhere to stay. People wouldn't experience caravan and camping in Ireland.
It was great to get an opportunity to meet park owners and get feedback. Many thanks to Camping-Ireland and all the attending members, for their time and the opportunity to talk with with them. Best of luck for the 2016 season and for many years into the future.
We will post further to information this week and place the links here so please check our site for updates.
We are here to help so contact us for free assistance and advice.
Read more...... Camping Park Services. Click Here.