Quirky Nights Glamping Village
Quirky Nights Glamping Village is a project undertaken by David McGowan from Enniscrone, Co Sligo. He under took this project some time ago and most people might think he is a little mad. Yet most people in life who set and achieve great things may have seemed mad to most, yet overtime are respected for their achievements.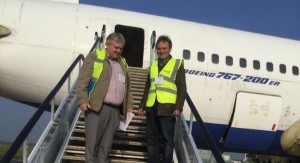 Clever Media Attention.
The project that he has undertaken is massive and the bigger the challenge the greater the satisfaction. Facebook, Twitter, radio, newspapers and TV are all eager to cover the story of moving a Boeing 767 from Shannon airport, Knockbeg Point to Enniscrone, Sligo. We live in a society that like to let people know what they are doing and where they are. Mr McGowan has not only great ideas, he is building up great publicity about his plan which is giving him a lot of future business. He is a clever business man and this will be shown over the coming years. To date his projects Facebook page Quirky Nights Glamping Village has over 21000 page likes and growing. If these figures are a insight into the interest he has built up for his project how many of these followers will follow through with a booking. If they even convert 20% of the interest into bookings that equates to 4200 bookings.
Dream Big!
This story is not about moving a plane from one location to another, it is about setting up a holiday location where you can choose a mode of transport to reside in for a time. In November 2015 Mr McGowan had located and bought the plane. He has been working on relocating the plane since then and has built his following from then. His business approach of using media to boost advertising and awareness of the Quirky Nights Glamping Village is marketing at its best.
We look forward to following the progress of Quirky Nights Glamping Village and what unfolds from here. We look forward to visiting this unique location and wish David McGowan all success with Quirky Nights Glamping Village.
To watch time lapse footage of the plane sailing preparation Click Here.