WiFi Data Usage counters, enabled on your device can give you insight into your habits and help you to reduce your Mobile Data Usage.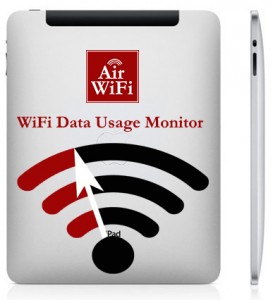 Some people like to see how much data they use, which can be hard to keep track of on your smartphones and (or) tables. You can keep an eye on your WiFi data usage by setting  WiFi data usage on, on your device. Whether you want to be aware of your WiFi data usage habits as a whole or like to record the information for your own purposes we will try to help you.
In our previous post Mobile Data Limit How To Save Money By Setting Limits On Your Device we have talked about setting mobile data limits.  The people involved in Air WiFi are in their forties and have children aged from 23 to 9 years of age. We too discovered the hard way that the mobile phone bills can get out of control if WiFi is not available or turned on. This is more noticeable when people travel on holidays as a family or when people have no access to WiFi for a period of time.
On android devices it is easier to keep an eye on you Mobile Data and WiFi Data Usage as the system keeps monthly counters which are automatically reset and stored at the end of each cycle. With Apple IOS the counters must be reset manually at the end of each cycle but there are apps on the market to enable you control and monitor usage..
Apple IOS.
With Apples IOS WiFi Data Usage is not available. There are apps which you can download to help you keep and eye on your usage of Mobile Data and WiFi Data Usage. We list a few suggestions for your review to aid you in your Data Usage controls. Please read reviews and information on each app following the instructions for each app to choose the best one for you.
Click on the App name below to see a Youtube Video.
Data Monitor (there are several apps using this name, click as before to review video.
Android.
Go to Settings on your device.
Select Data Usage.
Select Menu. (see video or image)
Tick the Show WiFi.
A new tab will appear Wi-Fi.
Press the Wi-Fi tab to display your usage.
If you have already set the Mobile Data to on your device may automatically set your cycle of usage or you may need to set this cycle. We would recommend that you set the WiFi Data Usage to the same cycle as your Mobile Data cycle so you can do a proper comparison of usage.
We will post this article to our blog soon. "How much would the Mobile Data bill be if the phone we assessed had no access to a WiFi network during normal use at work and home. Click here.