Out of Plan Charges - Shocking Bills
Out of plan charges on  mobile broadband data plans can be excessive. Should you go over your quota you could be in for a shock. Your regular monthly bill can be three, four or five times more expensive compared to your normal bill. This can be easily done during times away from home for several reasons. If you use your home or other WiFi for your normal internet access.  Or you may have formed a habit of regularly allowing young children use your phone to watch Youtube, Netflix, play online games etc. In most cases your device most likely connects to a WiFi network with an unlimited plan with few restrictions. If you have a holiday home, mobile home or prefer camping & caravanning chances are you loose the convenience of your home WiFi yet the habit may be hard to break.
Out Of Plan Charges Mobile Data V's WiFi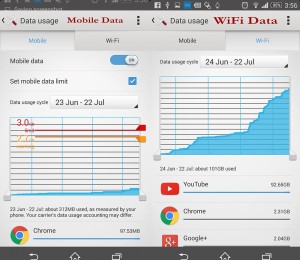 The pictures are of genuine usage on a phone where children are allowed to use it at their own free will while connected to WiFi. We are showing the data plan and WiFi usage for the same month. If this device used the same amount of data on your mobile broadband data plan the out of plan charges would be massive. (Select Mobile Data after you click on this link. Vodafone Rates)
Mobile phone operators know the average usage and set limits to get out of plan charges. Pay as you go customers pay much higher rates if  they do not sign up for offers. Data is where the money is for mobile phone companies.  They make big profit and they love out of plan data charges. You will have to pay the bill and the problem is yours alone. If you post a complaint all companies use the "Send us a PM (private message)" and then you may get some sort of satisfaction but you will pay. Click here
Out of Plan charges are far more expensive per Mb compared to the value of you built-in data allowance and the operators are cashing in. We assessed usage which mainly increased during time away from home for two weeks. That bill was 200% more expensive than the regular monthly bill. When analyzing the usage on the device it became clear that the majority of the usage for the month was during the two weeks away on holidays.
We spoke to someone in 2014 who bought mobile broadband WiFi devices and set it up in their mobile home for the kids. Needless to say, that mobile home became very popular that summer. The cost of this popularity came at a price. This year the same person switched to a pay as you go system to try to control the usage and set a password. The estimated spend for the summer was €180 for a number of reasons;
Last year thought them a lesson.
They didn't leave it open for all the kids in the park.
The weather being bad reduced the time they spent down at the mobile park.
We have posts to help people to assess and control their usage to get a true picture of how much data you use. You can also assess whether the use id on Mobile Broadband or WiFi. Click Here.